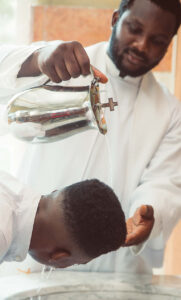 RCIA is the rite of christian initiation of adults.
Often, contact with people of faith and a personal faith experience lead people to inquire about the Catholic Church.
​A person may seek acceptance into the Order of Catechumens, through RCIA.
​We welcome new members who are above the age for infant baptism after successful completion of the RCIA program.
RCIA classes (catechism classes) hold every Sunday at 4pm.
​To enroll, attend an RCIA class and meet with the catechist for registration.
​To enroll in RCIA, you must be at least 18 years old.